Lisa's Stop Smoking Blog - 3 Month Update
Published at 08 September, 2016.

Hey! Hello there, remember me? In case you have forgotten, I started my stop smoking journey with you on the 1st June and shared a month long blog, from pity – grumpy – happy – delirious and everything in between. 
I'd like to start by wishing you all a Happy September and I hope that you have continued on your stop smoking journeys or perhaps thought a little harder about trying giving up for yourself – Stoptober is coming up fast!
I'm now 92 days in (the full 3 months mark) and I am still an ex-smoker.  I have now also completely stopped with my Nicotine Replacement Therapy, stopped this after week 6, and that's it...poof…its gone!! (Obviously not in a cloud of smoke!!)
The last two months have been a whirlwind – and it's fair to say that I only now when I've come to summarise my last 8 weeks since I last blogged on Yorkshire Smoke free that I realise how full and manic they have been. It has been the school holidays, so I needed to keep myself busy and active – god knows I love my boy but all day every day doesn't necessarily bring out my maternal happiness, which will probably be a great surprise to those that know me, as it allows me every opportunity to act more like a child than normal.
So what have I been up to :- the manic -ness and panic of the first month has passed and not returned although I have to admit to not liking to have much free time still at the moment. Strangely enough the only time I still register missing a cigarette is after I've done my marathon house cleaning sessions.  Speaking of Marathons…which I now will, I have continued to run and I have achieved my longest run to date in a 12 hour night run at Manvers with some of my Trotter gang ( photo attached)  and I covered over 30 miles…oh yes, that's 30 MILES.
I earnt my second headband this year at Yorkshire Tough  Mudder, which is a 12 mile assault course and  I'm using my new lungs also later this month to run the Loch Ness Marathon and hopefully help raise some funds to help a local boy!!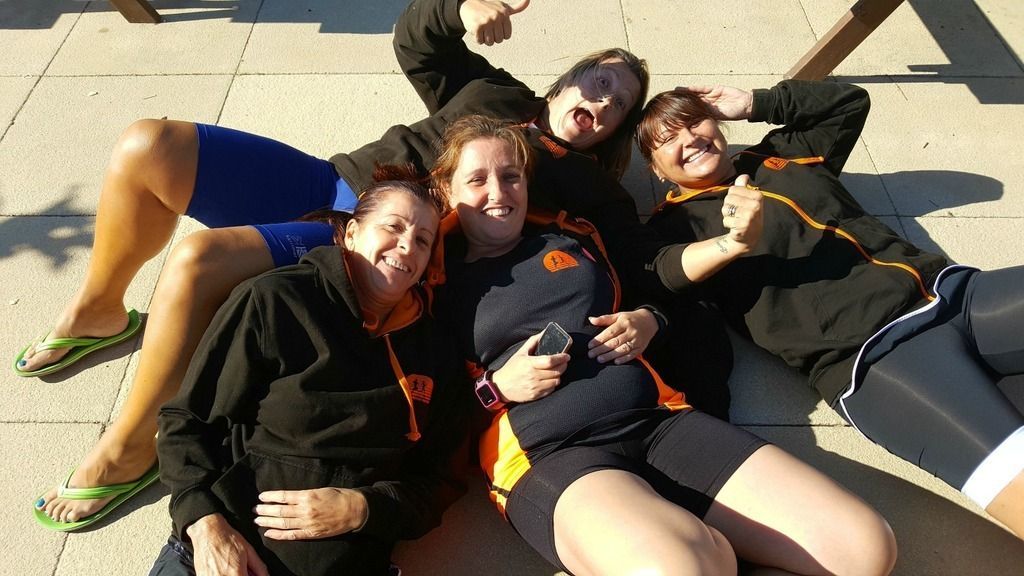 After our recent success of making it through a races event, alcohol and Tom Jones, myself and my newly stopped smoking Mum decided to have a weekend in London in August – grabbed a show, did some cultural visits, watched Lionel Richie and spent some quality adult time together.  To be honest, my Mum is an inspiration in my journey. I've never known her not to smoke but Margaret stopped before me, encouraged me through the initial stages of my journey and still supports me now – all while stopping smoking after 40 years of being a smoker and going through her own journey. You daren't smoke when you have that kind of back bone steering you though.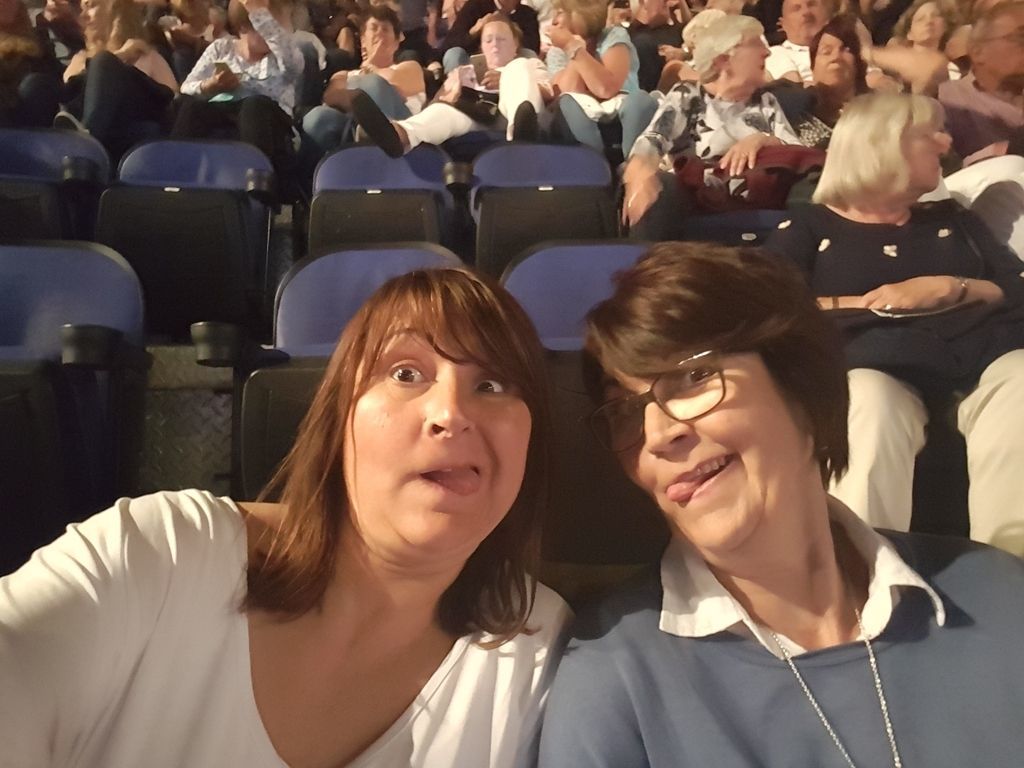 After my first month I still receive several calls and texts from the Yorkshire Smoke free service  continuing with positive support and asking if I needed any help or anyone to talk to – an offer that is still there and who I can contact if I really do need to.
I have also kept signed up to the Facebook and twitter pages. Although I don't often comment on them, I do find it useful to keep up with advice, information and read some of the inspiring stories about others and their challenge and reasons to stop smoking.
I have managed a weekend at the V Festival and a couple of days at LEGOLAND. What's so special about this, you may think! Critically if I can spend a weekend in a field with music, friends, face paint and lots of cider and still keep away from the cigs – then follow that up with two hard core days of roving LEGOLAND and all it offers with my six year old, I can confidently say that there is no other situations in life I cannot handle after dealing with both of these!!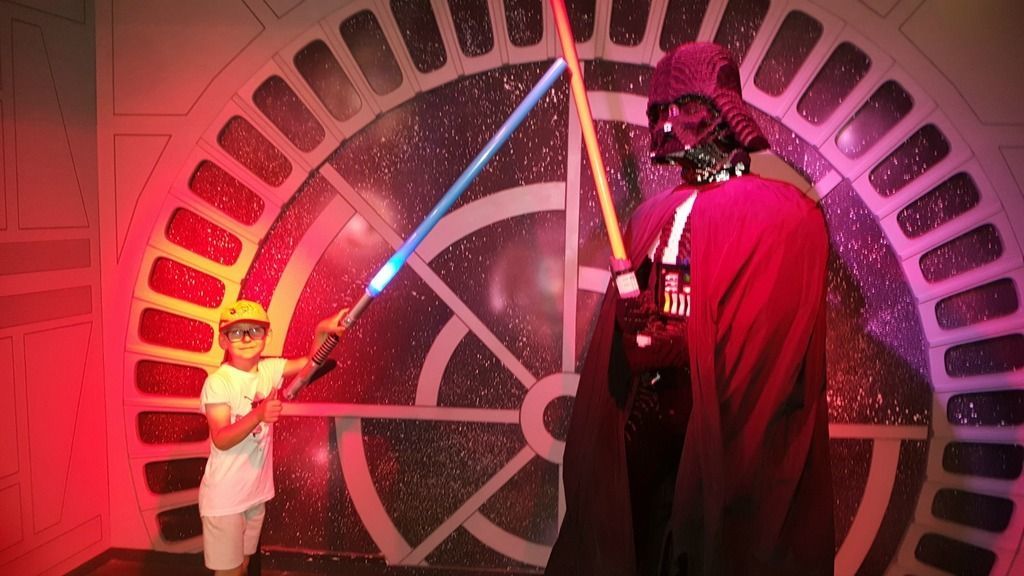 So stopping smoking has been fantastic and great and the best decision ever and I haven't missed it and I feel so much better and healthier – right?? NO, that's not right. During this time Henry has NOT been the only one fighting the dark side, I found quite a few things difficult these last two months.
I am really fed up at the moment , I have gone from the elation of having quit to feeling down, tired, drained, carrying over a stone of extra body weight and at the moment on anti-biotic for a mouth ulcer!!! I had more visits to the doctors than I usually have all year, and after a thorough review it's been determined that there is absolutely nothing wrong with me!! I am at this point seriously considering at what point the "health" benefits kick in, or how much longer I can last feeling like this before I sit and contemplate whether the non-smoking status is worth this. At this rate if I add 10 years to my life, I'm going to spend at least those additional years and eat into my own quota in extra sleep – never mind the grumpiness and can't be bothered modes!!!
Has anyone else experienced this "illness" aspect of stop smoking please and can perhaps offer a light at the end of the tunnel??
I have learnt that I am more resilient and positive than I thought I was as a person, as even with the recent setbacks and general feeling of illness, I am fighting it!! Bought my other half a cook book and new pans, so he can prepare me some healthy and filling meals (the kitchen is Darren's area – not mine) and I'm now using the weekly money I used to spend on cigarettes back in the gym with a personal trainer. All in an attempt to feel healthy, more active and energetic as well as hopefully lose some weight.
Some dark days I have honestly sat and thought – Aww forget it, I might as well just go and get a cig – but I haven't. Will I still be able to avoid this temptation if my current situation continues – who knows, but I figure that after 20 years of smoking to expect my body to accommodate and be fantastic after only 12 weeks off the cigs I'm maybe being a bit impatient – so I'll carry on trying to bring myself round, eat right, keep active and hopefully stay awake!! I deserve to carry on trying for myself, my boys, my family and friends, so I will! 
Hopefully you have managed to stay awake through my catch-up and I really would appreciate any thoughts, comments or advice people feel they can offer.  Keep smiling and not forgetting my track of the day: I'm going to go with one of my golden oldie favourites and after first seeing them 16 years ago headlining at V, they were still awesome in 2017, Travis " Flowers in the Window" give it a listen and have a lovely day .
L xx