Join Flavia on her Smoke-free Journey this Stoptober
Published at 28 September, 2017.

October, or Stoptober as it's now famous for, is a fantastic month to stop smoking. Flavia contacted our Wakefield stop smoking service and expressed how much she wanted to quit both tobacco and ecigs and has offered to chart her journey in a series of blog posts.
Join her on her journey and if you think you'd like to quit too make sure you get in touch. We're here for you on 0800 612 0011 (free from landlines) and 0330 660 1166 (free from most mobiles).
Flavia's Story...
As Stoptober approaches, I have decided to join in and quit smoking. As a result, I was recruited to tell you all about my journey and, hopefully, convince some people that whereas quitting might be difficult, it is not impossible.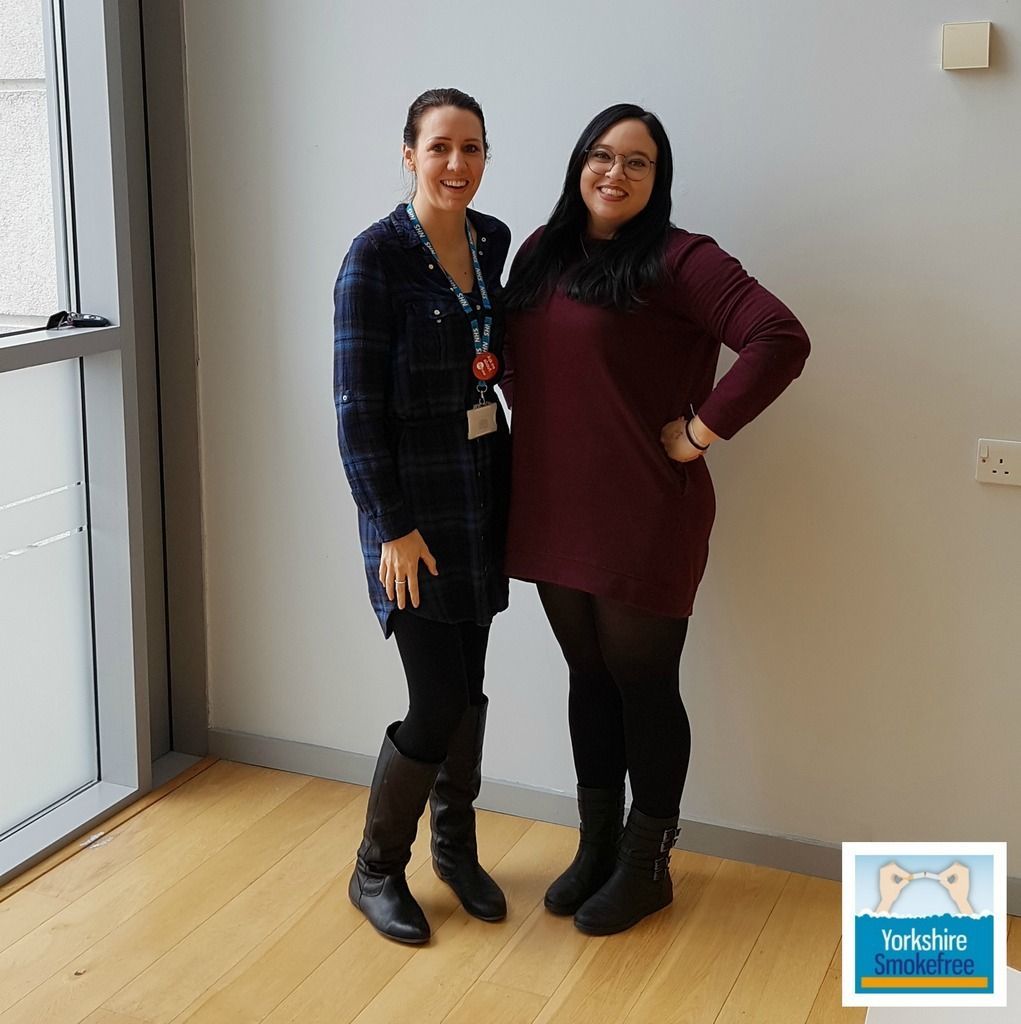 (Image: Flavia (R) and her stop smoking advisor Katie (L) at their first meeting)
Before diving in into the tale of my first meeting, I will talk a bit about myself. I am 33 years old and married. My husband also smokes, but he is not ready to quit yet, so I will have to be extra strong, as the temptation will be practically sat by my side every evening. In truth, we both smoke fewer cigarettes now, after adopting e-cigs, and I have been using cigarettes only when feeling stressed or anxious. To my credit, I haven't smoked more than three cigs a day for months. 
I must confess I am not only unbelieving but also nervous, especially about not being strong enough and failing in this challenge. The fact that I am writing this journal makes me even more afraid of failure – after all, publicly flunking would be so embarrassing! Another thing that adds to my nervousness is that I am also trying to lose weight (and taking medicine for that); the pressure of being on a diet and quitting smoking at the same time has the potential to be too much for me (gulp!).
On top of all that I am also addicted to diet cola and intent to abandon this bad habit. I was considering trying it all at once, in a sort of new lifestyle extreme makeover, but ended up deciding it would be better to give up diet cola once the losing weight and the smoking are resolved. There is just so much pressure I can deal with, and I might need some small treat to keep me going now and then. Let's hope I haven't put too much on my plate!
So, this is the story of my first step towards a smoke-free life. I will be posting updates here and hope you guys enjoy reading them. If anyone has any questions, I am sure the folks at Yorkshire Smokefree will be happy to help. And if you have questions regarding my journey, please feel free to leave a message via the Yorkshire Smokefree Facebook Page! I am here to share my experience and to make sure everyone who is trying to quit, like me, can feel they are not alone in this journey.
Good luck to everyone taking part in Stoptober this year!