Flavia's Stop Smoking Journey, Day 3 - Mouth Spray
Published at 03 October, 2017.

Three days of Stoptober have passed, and here I am, to update you guys on my progress. I would like to have marvellous news, but that is not exactly the case.
I've had a problem early on in my journey - my relationship with the mouth spray hasn't got off on the right foot.
Although I have opted to use the inhalator and the mouth spray in tandem, I decided to try each of them separately at first. That was because if one of the products made me feel not so well it would be easier to identify which was causing me problems.
And good thing I proceeded that way! The first time I used the mouth spray I felt extremely sick. I was an inch from running to the toilet, but as I was on a train, I had to control the sickness (which I successfully did, thank goodness). The second time around there was no improvement, which made me worried.
Was I going to fail just after having started?
In a bit of a low mood, I called the Yorkshire Smokefree folks and was able to get hold of my advisor, Katie. She told me to try spraying the quick mist under my tongue, instead of directly in my mouth. And she also told me to use to my inhalator in case the mouth spray continued to make me feel unwell. I was, however, hoping the spray would be my main treatment, so this made me a bit upset.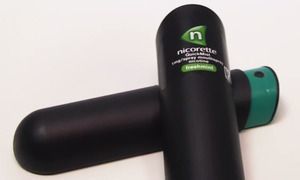 Fearing a new bout of sickness, I was very wary of using the spray again (we were not best friends, as I had expected. The Traitor!). I am ashamed to confess that, as I was feeling down and insecure, I took some puffs out of my vaporiser. Not many, but still. In any case, I am happy to say I did not reach for any cigarettes. It must count as a small victory, right?
This morning I woke up ready to try the spray again. To make sure the sickness wasn't caused by external factors, like lack of nutrients, I ate breakfast first (last time I was on an empty stomach, you see). I am quite sure that eating is not related to what I felt, but I wanted to take all the possible precautions. I sprayed it under my tongue as Katie directed and waited...
And, guess what? It worked! I used the spray and felt alright! Yay! Having now made peace with my mouth spray, I am ready to keep up the good work.
If you are trying to quit and are experiencing some obstacles, don't give up. There are many ways you can reach for help, like the online chat, or even doing as I did – calling the Yorkshire Smokefree helpline to ask fomr some advice.
Everyone at Yorkshire Smokefree wants the same for you - they want you to succeed so are eager to help!
I won't let one small bump in the road hinder this important life change so I'll put my optimist hat on and keep trying!