Ray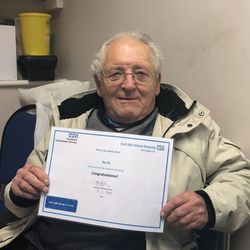 Start your year right like Ray did and quit smoking today!
Ray had been a smoker for over 55 years and after a COPD (chronic obstructive pulmonary disease) diagnosis, he decided there was no better time to stop smoking.
Since the age of 13 Ray has smoked every day, some days in excess of 30 cigarettes per day! Ray wishes he knew what he knows now about smoking being so addictive and harmful to your health. He wishes he never started and is determined to never smoke again!
Ray stopped smoking with the help of a Yorkshire Smokefree stop smoking advisor based in his GP surgery, attending weekly support sessions and using nicotine replacement therapy. After just one week of using nicotine lozenges, Ray was so determined to stay smokefree that he decided he didn't need them anymore.
Ray puts a lot of his success down to simple changes in his routine, including stay out of pubs in the short term. This has helped him be more productive and work past any cravings he had. When he was a smoker Ray had no energy and would often leave the housework to build up, but not now!
Since stopping smoking, Ray loves the fact that his sense of smell is back and he's seen a huge improvement in his tastebuds, meaning he's now a lot more adventurous with food.
Since Ray quit in October 2018 he has saved over £675 which has enabled him to upgrade his mobility scooter and he has plans to go abroad again.
Congratulations Ray, you've done so well and everyone is so proud of you.
Why not follow in Ray's footsteps and sign up to quit smoking this year? Contact Yorkshire Smokefree on 0800 612 0011 (free from landlines) or 0330 660 1166 (free from most mobiles). You can also click here to submit your details and one of our stop smoking advisers will ring you back.