Gail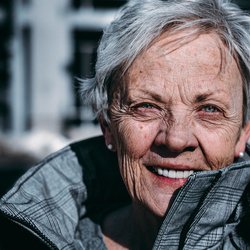 Since quitting, Gail is loving the fact that she no longer has to think about her breathing like she used to and is no longer needing to be tested for COPD!
Being asthmatic I use inhalers and when I was a smoker I seemed to use them all the time. I used my reliever inhaler that often I would find myself panicking if I thought I might run out, which could bring on an asthma attack, let alone any physical activity.
Its nice to be in a position now where even the stairs leading to my flat don't get me worked up as I just take my time. Previously, I would have stopped at every flat point of the staircase, reaching for my reliever just to get up the next set of stairs, which was not an easy task.
It's easy for me to say now as I'm 12 weeks quit. Looking back, it didn't matter how many puffs of my reliever I was going to take, it wasn't going to help me, maybe to get up the stairs but not in the long term. The only thing I could do to help my breathing would be giving up cigarettes.
I'm only 12 weeks quit, and I feel so much more comfortable and even my asthma nurse is pleased with me. I was told I should be tested for COPD but that's not on the cards anymore and I hope it stays that way.
Since accessing Yorkshire Smokefree Calderdale, I've referred many of my friends as I want them to feel the same benefits I do, now that I'm a non-smoker.
If you want to be more like Gail, there are many ways we can help:
Quit online - https://yorkshiresmokefree.nhs.uk/pages/quit-online
Our online quit tool will allow you to create your own personal profile and will support you on a daily basis through your quit journey.
Telephone support - our advisors are on hand to answer any questions or provide additional support as you need it. You can call 0800 612 0011 (free from landlines) or 0330 660 1166.
Visit our frequently asked questions section to find out more: https://yorkshiresmokefree.nhs.uk/frequently-asked-questions