Emma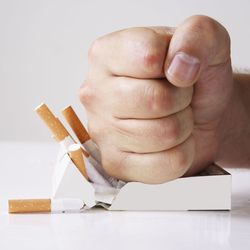 Emma had been smoking for 20 years before she sought the help of Yorkshire Smokefree Wakefield. Here's her story...
I've been smoking for 16 years in total, after starting at the age of 20. I started because everyone around me was smoking; my boyfriend, my friends all smoked so I followed suit.
I've been smoking up to 10 a day and it was becoming really expensive. I realised I wanted to save the money and feel a bit better health-wise and I knew deep down I had to quit. I also wanted to encourage my mam to do the same so I found the details of the Yorkshire Smokefree team in Wakefield and made an appointment. I then went to one to one meetings with an advisor and I'd rate the service I received 10 out of 10!
I used stop smoking medication to help me quit and I found this really helpful. I knew I needed willpower too though, but I was really motivated when I started to see how much money I was saving. Since quitting I feel loads better overall. I feel healthier and I'm richer because I've saved between £30-£40 per week, which I am putting towards a holiday.
What would I say to anyone else who has recently started smoking, or my younger self before I smoked that first cig?
Just DON'T DO IT. It's a dirty and expensive habit!
Thanks for your feedback, Emma. Your Wakefield stop smoking advisor is really proud of you. Keep going, keep saving and enjoy that holiday!