Charlotte and David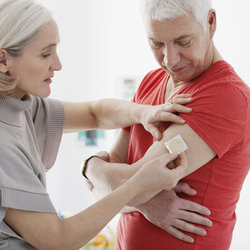 It takes two, baby! Congratulations to Charlotte and David from Doncaster who recently completed their quit smoking programme with Yorkshire Smokefree.
After years of struggling with the effects of smoking, Charlotte and her husband were tired of feeling unfit and regularly being short of breath. Charlotte had also been diagnosed with sickle cell anemia, a blood disorder, and knew it was time to break away from tobacco.
Charlotte and David found the support they received from the Smokefree team indispensable. Charlotte says: "The team made me and my husband feel welcome and supported towards our decision to stop smoking… We were offered an eight-week course to overcome cravings and habits. If we hadn't had the support that we received from the team, we would not have made it this far – we have never looked back since."
Since quitting smoking with the help of targeted Yorkshire Smokefree support and the use of nicotine patches, Charlotte and David have been able to save money to decorate their home. They even have money left over to spare! They are now reaping the benefits of their increased energy and enjoy long walks with dogs, without the worry of becoming short of breath again.
If you feel inspired by Charlotte and David's story and would like support in quitting smoking, register for a call back at: https://yorkshiresmokefree.nhs.uk/pages/callback-request