What are the benefits of Stoptober?
Published at 11 October, 2021.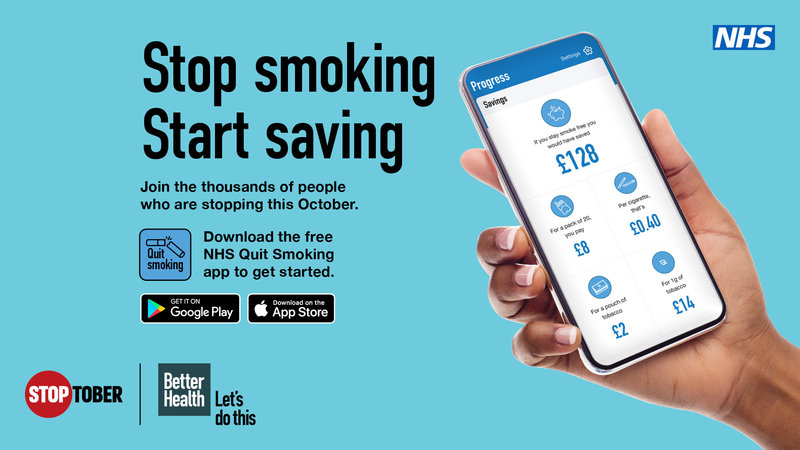 Stoptober is a campaign that runs every year during the month of October. The campaign is now in its 10th year, but the benefits of Stoptober keep improving year on year.
One of the main benefits of Stoptober is the support offered to all current smokers, and ex-smokers.
A lot of people who stop smoking find themselves relapsing at some point, these will also receive support during Stoptober to keep them quit.
As Stoptober is a huge campaign, this means there is more support available and not just from within Stop Smoking Services. You are more likely to find more support in doctors offices, pharmacies, shopping centres and supermarkets than you would typically during any other time of the year.
Another benefit of Stoptober is the support you will receive from others who are stopping smoking, whether this is via online platforms such as Facebook, or in group meetings like the ones we host, or through workplace chats.
The best benefit of Stoptober is the feeling of clearer lungs and easier breathing after going 28 days smokefree. It is also important to remember that if you hit 28 days smokefree, you are 5 times more likely to stop smoking for good.
What's stopping you from stopping this Stoptober?
There are many ways we can help:
Quit online - https://yorkshiresmokefree.nhs.uk/pages/quit-online
Our online quit tool will allow you to create your own personal profile and will support you on a daily basis through your quit journey.
Telephone support - our advisors are on hand to answer any questions or provide additional support as you need it. You can call 0800 612 0011 (free from landlines) or 0330 660 1166.
Visit our frequently asked questions section to find out more: https://yorkshiresmokefree.nhs.uk/frequently-asked-questions