Zamal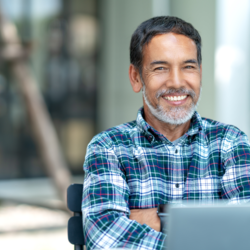 Stopping smoking has been the best decision for me and my family, and we are so happy that I have finally stopped smoking.
Every year I tell myself that I will stop smoking before Ramadan, and every year it just doesn't happen.
This year I decided to access Yorkshire Smokefree and have managed to successfully quit prior to Ramadan.
Previous years I would have thought of nothing else than a cigarette from the moment I woke up until the opening of my fast.
So far, I have found this year's fast so different to previous years. I am no longer feeling uncomfortable from the abstinence of nicotine. I now know that I can cope without food and fluid between the opening and closing of my fast but the cravings from the absence of nicotine make fasting very difficult and uncomfortable.
The best part for me this year is that when we open our fast, I no longer rush off and have a cigarette I can now sit with the rest of the family and enjoy our family meal.
I have also saved some money which is nice and I'm thinking of booking a family holiday with the money I will save from staying stopped.
If you feel inspired to by Zamal's story and would like support in quitting during Ramadan, click the link to register for a Callback Request from our team today.