Magdalena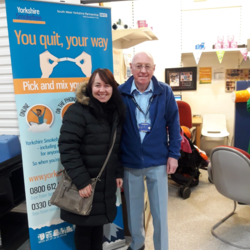 Magdalena started smoking when she was around 16 years old after feeling the pressure from her friends to join in with them. A few cigarettes a day slowly crept up and before she knew it, Magdalena was smoking up to 15 cigarettes per day.
After 20 years of smoking, Magdalena decided that enough was enough and she needed to quit smoking for the sake of her health and the health of her children. She registered on the quit programme and received 12 weeks of support from Yorkshire Smokefree based in Sheffield Moor Market!
Magdalena said the support she received from Yorkshire Smokefree was 10 out of 10 and the staff were excellent. The staff helped Magdalena by supporting her throughout the quit and helping her choose a nicotine replacement product that would be best suited to her needs.
Most importantly, Magdalena said her children are really proud of the fact that she has stopped smoking for good. She feels a great sense of achievement that she's been able to stop smoking, not only for herself but for her children too. Since quitting Magdalena has been able to spend more money on her family with the money she has saved!
Magdalena recommends anyone thinking about stopping smoking should visit Yorkshire Smokefree, just like she did. Why not contact the service today? You can call us on 0800 612 0011 (free from landlines) or 0330 660 1166 (free from most mobiles). Alternatively, you can leave your details with us here and a stop smoking advisor will be in touch at a time that suits you.