Louise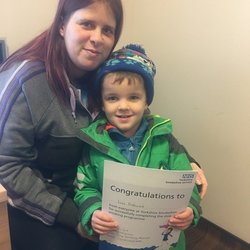 Another happy client! Big congratulations to Louise, who is now smoke free! Although her quit journey hasn't been easy, Louise had her real ups and downs over the last 12 weeks but it's hard to hide the pride she now feels!
From smoking a pack of 20 cigarettes a day, to a big fat zero, Louise is thankful for her support from Adviser Carrie. During the course, Louise suffered from sickness and even had the stress of being her sister's birthing partner – but throughout, she kept her focus and reached her goal.
She's now excited to have more money in her pocket to spend on her son at Christmas. To celebrate her success, she's written a poem that she'd love to share:
From 20-a-day to none
Breathing is better, the cig smell gone.
It has been tough, she does not lie
From sickness to birthing partner
Some days she could cry.
But it is all behind her now, happy and healthy
And with Christmas coming a lot more wealthy!!
So her journey continues and the photo shows the joy
Celebrate as a quit with her proud little boy.
---
If you feel inspired by Louise's story and would like support in quitting smoking, register for a Callback Request today.