Lawrence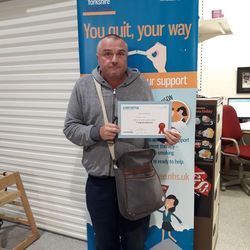 Lawrence has been a smoker for 19 years, first starting when he would go out socialising with friends. At one point, Lawrence was smoking up to 25 cigarettes per day, so he decided enough was enough and decided to quit for the sake of his health.
Lawrence accessed stop smoking support via the Yorkshire Smokefree website and with the support of Yorkshire Smokefree Sheffield, he is now smokefree.
Since stopping smoking Lawrence has lots more energy and has even found the energy to start trekking in the Peak District!
With the support of the service and the use of nicotine replacement products, Lawrence is enjoying the freedom that being a non-smoker has now given him.
Lawrence also found his partner stopping smoking at the same time was a great encouragement to him. As if all of this wasn't enough motivation for him, Lawrence has saved over £800 since stopping smoking at the beginning of summer.
A huge well done to Lawrence, the Yorkshire Smokefree Sheffield team are so proud of you.
Why not join in Lawrence's success and stop smoking today? Contact Yorkshire Smokefree on 0800 612 0011 (free from landlines) or 0330 660 1166 (free from most mobiles). You can also click here to submit your details and one of our stop smoking advisers will ring you back.