Eric's Story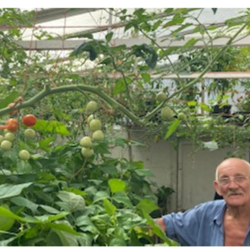 Eric thought he had "let me down" when he came back to our service for more help to stop smoking after a successful quit attempt earlier in the year. I discussed with Eric that it was not about letting me down and instead it was a positive step to get back in touch and want to stop smoking again. He succeeded last time and with much encouragement from me to get going with his next quit attempt he agreed to "never give up giving up"!
As soon as Eric received his Nicotine Replacement patches, he got rid of his tobacco and was on his smoke free journey.
Eric says "when you are younger, fit, and healthy you do not think of health problems. I started smoking aged seven on my paper round. With Carrie`s help I stopped smoking in my 80th year and I am nearly 81 now".
Eric`s story is a great example that it is never too late to stop smoking and the benefits can be gained at any age. Eric is in great pain in his hip and may have an operation. I am hopeful he will be more confident to have the operation and able to heal better now that he has stopped smoking.
Stopping smoking before an operation reduces risks from surgery, decreases healing time, and reduces the average length of hospital stays.
Eric`s great passion is his green house and garden, growing tomatoes, apples, green beans and celery.
This keeps him busy and along with his love of woodwork, helps keep him smoke free.
Keeping occupied helps Eric with his quit attempt. It keeps his brain and his hands busy and keeps his mind off wanting a cigarette.
Eric`s pleasure is giving all his produce away and I was blessed to receive some of this when I went to see him in his home and see for myself the wonderful way in which he stays busy and smoke free. I gratefully accepted some of this delicious harvest and I made the tastiest apple crumble and a delicious tasting home-made tomato soup. You can see from the photographs how amazing his home-grown fruit and vegetables are, and how I turned them into two delicious dishes!
Thank you, Eric, congratulations on your successful quit and enjoy your 81st Birthday smoke free.