Ryan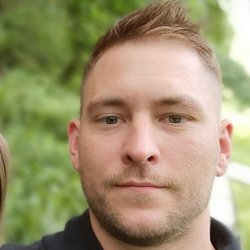 Ryan first started smoking at the young age of 10 until his father caught him, but started again at the age of 17. He has now smoked for 10 years, but only started to look cool and not feel left out.
On average I was smoking between 21 and 25 cigarettes a day, it wasn't until I went to the doctors for a chest infection and the doctor said "if you carry on smoking, by the time you're in your early 40's you will have COPD that really made me think but it didn't stop me. I still loved the party life, a cig and a beer that's what I loved but I could tell my health was seriously deteriorating waking up on a morning coughing lumps of phlegm, and wheezing and gasping for breath on a night.
I couldn't even wake up the stairs without feeling breathless, so there never was any chance I could spend 5 minutes playing and running with my daughter, which I felt ashamed about. I hated the routine I had gotten myself into... waking up, cig, breakfast, cig, cup of tea, pushing everybody away until I had my cigarette. I wanted to spend many more years looking after and playing with my daughter, I want to be there at her wedding and every major life even that she comes across not looking on her from above. And I knew if I didn't stop, the chances of seeing the milestones would be very slim, I was ready!
I accessed the stop smoking support via the telephone support, I used the Wakefield and telephone hub to access it.
I'd rate the service 10/10!
I used Nicorette patches to help me quit, I found these very helpful. Apart from using stop smoking medication, I tried to keep my mind active by playing games and talking to people to help me quit and stay smokefree.
My health has definitely improved since I quit, I can now run for more than 5 minutes and I don't become breathless so easy My wheezing and phlegem have disappeared.
Since quitting I had completed the coach to 5k challenge which I wouldn't have been able to do before. I like how clean the air feels and how health I feel, I like not having to stop halfway through smoking to go have a cigarette.
I don't know how much money I have saved but once Covid has gone, the family will be going for a well deserved weekend away with the money I have saved.
If I could go back in time, I'd tell my younger self that
The gift of life is short, precious and sacred, don't cut it short and waste it.
If you want to be more like Ryan, there are many ways we can help:
Quit online - https://yorkshiresmokefree.nhs.uk/pages/quit-online
Our online quit tool will allow you to create your own personal profile and will support you on a daily basis through your quit journey.
Telephone support - our advisors are on hand to answer any questions or provide additional support as you need it. You can call 0800 612 0011 (free from landlines) or 0330 660 1166.
Visit our frequently asked questions section to find out more: https://yorkshiresmokefree.nhs.uk/frequently-asked-questions