Laurence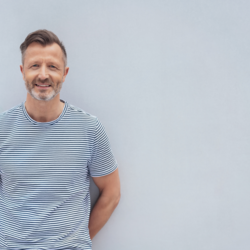 Congratulations to Laurence on his successful quit, stopping smoking isn't the easiest decision to make but we are glad to be able to help those who make the decision!
What was your main reason for accessing the service?
To improve my health due to having a heart attack.
Did you believe you could achieve 4 weeks smokefree?
I was determined from the beginning, so yes. I knew I had to make it work.
Have you used stop smoking medication to help you quit?
I used patches and an inhalator, the patches helped but the inhalator wasn't helping me as much.
Apart from medication, what else helped you to quit and stay smokefree?
I didn't give in, I had the determination to stop and my mind was set.
Did you visit the Yorkshire Smokefree webpage?
No, I didn't visit the website.
Has your health improved since you quit, and if so, in what ways?
Not as yet, not quite felt the benefits but I am needing a stent.
Other than health, have you achieved anything since quitting that you couldn't do whilst smoking?
Not managed anything else yet as I am not very mobile at the moment due to my health.
What have you found helpful about accessing the service via the Telephone?
The ease of access to the service via phone has been great. Sarah, my advisor was fantastic, I found it helpful to speak to her over the phone. She was a lovely woman and the calls were relaxed so I could easily open up and she was very helpful.
You have go to really want to stop, to stop.