Jodie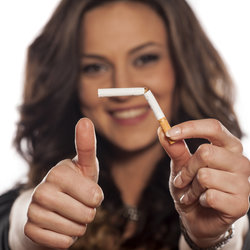 "I decided to visit Yorkshire Smokefree as I knew if I quit smoking it would benefit my health.
I have been suffering with mental health issues for a while, and since I've stopped smoking these have improved massively. My mental health, my physical health and wellbeing have all improved - I feel fab!
The Yorkshire Smokefree team has been so supportive. I can't thank them enough. You get so much support from them.
I've seen so many positive changes in myself since quitting smoking, I think about my life and my future so differently now. The health improvements have been great - I have more energy, I'm breathing easier and I feel alive and wonderful.
The hardest thing about quitting smoking was no longer having my morning cigarette, but I overcame this by scrubbing my entire flat!
The support from my partner really helped throughout my quit, as they decided to give up at the same time. Stopping smoking has massively changed my life, it's great!
I'm really proud of stopping smoking as I've been trying for the past ten years and I've FINALLY done it!"