Zoe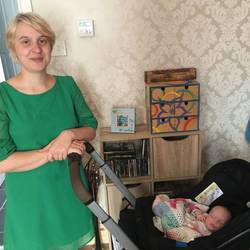 Zoe was referred to our Barnsley stop smoking service by her midwife and was really motivated to quit due to the risks associated with smoking during pregnancy. Her own mother had had a previous history of miscarrying and she was worried that this would happen to her.
By working together we were able to create a plan of how to make her home smoke free.
Zoe was also able to encourage family members who smoked to not smoke around her and swap to using E-Cigs in preparation for baby coming so they collectively reduced her exposure to second hand smoke.
Zoe told us that when she smoked during pregnancy it often made her sick and her morning sickness was significantly reduced when she went smoke-free. Whenever she felt like smoking the thought of being sick reminded her why she wanted to stop smoking.
Her advice to other smokers was to just do it! It can be done if you put your mind to it and find something else to fill your time with.
The hardest time she found was during her maternity leave before she gave birth - but made sure she kept busy by visiting family and friends and reading lots of books. She found that having baths gave her precious time with her unborn baby and could see her baby's movements which reinforced why she was quitting. She was also able to spend money saved by not smoking on things needed for her new baby. Zoe also noted the benefits of quitting during pregnancy as despite gaining pregnancy weight she felt like she could walk further without being out of breath.
Zoe told us she was very satisfied from the support received from the stop smoking pregnancy advisor and says, "it was nice to have the opportunity to talk if I was struggling with cravings and I liked the regular appointments throughout my pregnancy… this kept me focused between appointments as I knew I would be seen regularly.
I knew that my advisor Laura would be there if I needed anything I could text or ring her. I looked forward to seeing her after my holiday as I could tell her how well I had done not to smoke especially around other smokers. She was also able to sign post me to relevant services for any extra pregnancy related information i.e. the infant feeding team for support with breast feeding concerns and the physio for pregnancy related issues.
The advisor came to see me after the birth of my daughter which again gave me the vital support I needed when my baby was here to remind me how important it is to keep Smokefree for both me and my daughter".
Well done Zoe, and congratulations on the safe arrival of your precious little girl. Keep up the good work and remember we are here if you need us!