William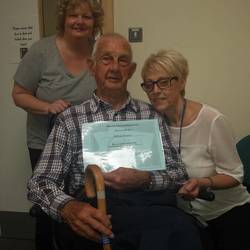 "I am 93 years old and this goes to show it's never too late to stop and improve your health."
Wow! We're really inspired by 93 year old William who has quit smoking for the sake of his health.

William was recently admitted to hospital for a short period of time and the experience had made him think about stopping. He had rapidly lost weight because of problems with his mouth and was hoping that quitting smoking would help him eat and improve his overall lifestyle.

He made the decision to call into our quit shop in Barnsley Hospital to gain their advice. He was extremely pleased with our team there who advised and supported him as much as they could.
"I would not have been able to achieve my quit without the help and support from the service."
Attending sessions with our team allowed William to keep his motivation level high. Regularly speaking to our advisers about how his quit was going encouraged him to make the small lifestyle changes he needed to take on for his health.The most difficult part of stopping for him was not associating the end of a meal with a cigar. However with the help of an inhalator he managed to overcome his cravings and get used to the change in his routine.
Since cutting out the habit William is pleased to report that he can now eat properly and has since been able to gain that bit of weight he needed.

William is very proud to have achieved his quit at 93 years old - and so are we! Congratulations on becoming smoke-free, you've set a fantastic example of what stopping smoking can do for your health.