Suzanne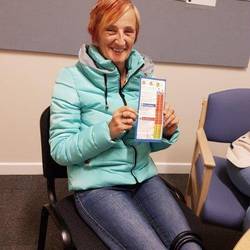 Congratulations to Kirklees quitter Suzanne, who is now 8 weeks smoke-free after working with our quit advisor Sally.
Suzanne smoked up to 20 roll ups a day and her initial carbon monoxide reading was very high at 45ppm (parts per million). She also had a very high Nicotine dependence score.
Like many people we work with Suzanne has been smoking since childhood, first taking up the habit at the age of 11. She admitted that she was rewarded with cigarettes in return for doing errands.
Suzanne decided to quit smoking when she was diagnosed with COPD. This diagnosis scared her into action and she started using nicotine patches and spray. However, these quit products made her feel ill and "ratty" so she decided to stop using them. With the support of Sally she has reached 8 weeks without a cigarette.
Suzanne is already starting to feel the health benefits of stopping smoking and told Sally:
If I had known how easy it was, I would have done it years ago.
Congratulations Suzanne! Sally and the entire Yorkshire Smokefree team are really proud of you. Keep up the good work and we will continue to support you on this life-changing journey.