Susan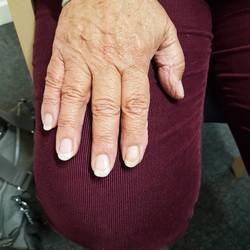 Susan is 70 years old and has smoked for a very very long time. She has quit smoking for nearly six weeks using patches and the inhalator. Her fingers were previously stained yellowy/brown with nicotine but just look at her hands now!
Susan quit for health reasons as her chest was wheezy at night and it was affecting her breathing and mobility. She has seven grand children who are very proud of her. She also states her son is extremely proud of his mum and her fantastic achievement. Susan said her wheeze has gone, she feels better, no more sore throats.
"You have to want to quit if you want to really succeed"
Her carbon monoxide reading was initially very very high at 33 but now down to six and within the green light stage!
Well done Susan, your Quit Advisor Sally is so so proud of you!