Susan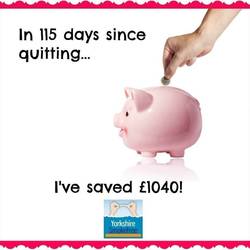 We had a quick catch up with her to reflect about the quit, and here's what she had to say about it…

When did you first start smoking?
I started smoking when I was 12 years old in our little gang at school. It's always been in my life though. My parents smoked and I used to go out and buy them cigarettes. It's amazing to think a pack of ten cost £27½p back then compared to what it is now!

Tell us about your past quit attempts.
I'd tried Zyban and patches but just never seemed to stick to it and stay quit. In December 2014 I decided to try Champix this time. I've visited the Wakefield Quit Shop a few times over the past 5 or 6 years but this last attempt I really stuck to it.
I quit on 11th January 2015 and have been quit for 115 days now.
What has motivated you to stay quit this time?
I'm really pleased to say I've saved £1040 during this quit! I've put aside £10 every day as my cigs cost me £9.80 per pack of 20. It's been an amazing way for me to stay on track because I can see that money increase and increase. I've got a week off work in October and I plan to treat myself to a nice holiday with my husband. We're also thinking about getting a new car as well.

What are the biggest benefits you've noticed since quitting?
I'm much less stressed since I quit because I'm not constantly looking for ways to have a cig.
I don't have to fit my life around it anymore! I've noticed my skin feels better and my teeth are much less yellow. Recently people have been telling me I look younger and I have more colour in my face.

How do you feel about smoking now?
This is the longest I've ever quit for so far and I am determined not to smoke ever again. I couldn't have done it without the support of the Stop Smoking Service so I'm really grateful to them for their help.

To find out how we can support you in your quit, head over to our ways we can help page.