Stanislav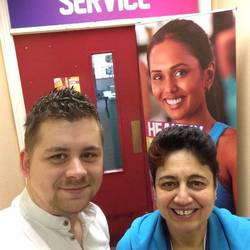 Congratulations to Stanislav who has been Smokefree for 12 weeks!
Stanislav quit smoking with support from Calderdale Council's Better Living team who work in partnership with Yorkshire Smokefree.
Stanislav reports smoking for over 10 years and never imagined that he would be able to go 12 weeks without a cigarette even though he hated the smell and didn't enjoy smoking.
Here is his account of his stop smoking journey:
"I have been a smoker for over 10 years. I never imagined that I would stop smoking, even though I hated the smell.
I used the Better Living Team stop smoking service because it was near to my workplace and I knew the stop smoking advisor Renuka. The service from Renuka was excellent. She talked me through all the treatments that were available and gave me lots of information. She never ever pressured me and was so supportive throughout the process. She was so full of praise that this spurred me on to get to 12 weeks smoke-free.
Until Renuka announced she was starting a stop smoking clinic at Queens Road Neighbourhood Centre in Halifax I wasn't even thinking about stopping. Now it's 12 weeks since I last had a cigarette which is amazing!"
My life has totally changed because of Renuka's support. I am enjoying my life again, I have started to play football and do lots of activities.
"When people find out I have stopped they are amazed and are really pleased with my success. I feel less breathless have more energy and now consider myself a non-smoker. It's nice to tick the non-smoker box on forms that ask about smoking status.
Since I have stopped this has spurred several of my friends to use the stop smoking service and share in my success."
Congratulations on your successful quit Stanislav. The Calderdale Stop Smoking Team are incredibly proud of you.
Any smokers wanting to quit using the Better Living Service in Calderdale should call Yorkshire Smokefree Calderdale 01422 262373 or 0800 612 0011 (free from landlines).