Shirley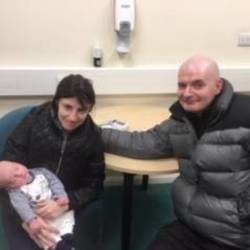 Congratulations to Shirley, who quit during pregnancy with the support of her Barnsley stop smoking advisor Laura.
Shirley got in touch with the Barnsley Stop Smoking Team when she learned she was pregnant. Sadly, Shirley had suffered 3 previous miscarriages and she was deeply concerned that this would happen again. She wanted to protect the health of her unborn baby and make improvements to her own health and knew that stopping smoking was really important.
After formulating a quit plan with Laura, Shirley progressed through her pregnancy smoke-free. Laura was delighted to meet up with Shirley, her partner John and their newborn baby recently and is so pleased to hear that Shirley plans to remain a non-smoker. She told us:
There's no point going back after quitting during my pregnancy. It helped to receive regular support from the service to keep me going.
Her partner John said the support we offered was very good and it is a "brilliant service"!
Congratulations Shirley, Laura and the entire Barnsley team are incredibly proud of you. Pop in again soon so we can enjoy some more baby cuddles!