Sean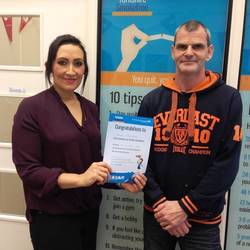 After his parents were diagnosed with COPD, Sean decided it was time he quit smoking and came to our Doncaster and Rotherham teams for help.
Since his quit, Sean has found he's much better off financially, but found his morning cravings, after food and evening cravings hard to handle. However, he persevered and was happy to tell us it did get easier after time. He also found eating mints and toffees helped keep him distracted (great tip!).
Sean thanked us for the encouraging support and said his CO readings helped him keep motivated – he knew he had to keep the readings down for his next appointment and this made him determined not to touch the cigs!
We're so proud of Sean for taking inspiration from his Dad and making the decision to quit, and stay quit. Well done!