Samantha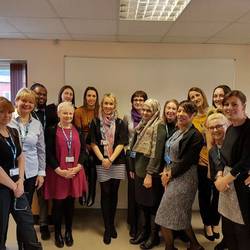 Samantha was only 15 and at high school when she started smoking; all her friends did so she wanted to fit in. At first she thought it was harmless fun, but years down the line it became an addictive habit that caused her to be smoking 26-30 cigarettes a day.
We asked her why she wanted to quit:
I wanted to be healthier, I hated being the one having to go out for a cig at work and when I was with my friends. I felt dependent on them and it was embarrassing. After waking up every morning with a tight chest and regret, it just got too much and I knew it was time to stop.
Samantha got in touch with Yorkshire Smokefree in Wakefield and started one to one sessions, and with the help of Champix she managed to quit the habit for good. She found quitting alongside her friend really helped when the cravings began, and support was key to stopping.
Now Samantha has no morning cough and has more energy than she's ever had before! And she no longer feels the odd one out in a group of friends, and no longer smelling of smoke all the time. With the money she saved, Samantha has bought a bike she would never have been able to afford whilst smoking.
Well done Samantha! The Wakefield stop smoking advisors are really proud of you!