Samantha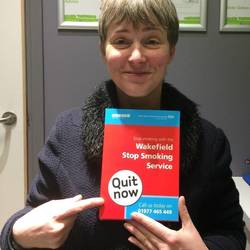 Recent health issues made Samantha suddenly realise she had been smoking for over half her life. Palpitations and shortness of breath were the final straw and that's when she sought our help. We asked her a few questions about her quit experience and here's what she told us...
What made you decide to join Yorkshire Smokefree?
I started experiencing health issues and realised that I had spent over half of my life as a smoker.
Tell us about your experiences of the health issue that meant you needed our service
Palpitations, shortness of breath when doing minimal exercise
How has it affected your life?
Luckily not badly but after a relative suddenly passed away with no symptoms, I felt it was stupid to do something that would increase my chances of that happening.
What has the reaction of the Yorkshire Smokefree team been to your situation?
Very supportive and understanding
What have the Yorkshire Smokefree team done for you? How have they helped?
The advisor who sees me, she was a smoker so understands. She also was in no way judgemental that I had started smoking again after stopping before.
What were the most positive changes you made to your lifestyle?
More money, feel like I don't smell, getting healthier.
What did you find most difficult? And how did you overcome it?
The patches were very irritating; they caused me to scratch until I bled. I haven't been able to overcome it but have found it less sensitive areas to put them on. Also, insomnia and sadly I'm still struggling with this.
What health benefits/improvements in your life have you had since stopping smoking?
I find I have more energy and can exercise more.
How has stopping smoking changed your life?
I have more money and feel healthier. I can feel pride that I am on my way to been a non-smoker.
Is there anything the service could have done differently?
No.
Has anything in particular helped you through your problems?
The pack that I was given was really good, it allowed me to review a chart, it said what I would experience when and I found comfort in that, it allowed me to prepare for the next bit.
Is there anything you feel particular proud of, that you may not have been able to do before you received the support from the service?
I found that the patches have made the symptoms easier to bear, the advisor has been great, and she accepted and didn't judge me when I had a relapse, she was 'normal' so friendly and positive.
Is there any other information that you think is important to your story?
I know I will not be wearing the patches for the rest of my life and I know that I will be ready to face that. I have been able to use the pack given to me to continue to look forward.
Congratulations Samantha! Your Wakefield team are all very proud of you. Keep up the hard work!