Rebecca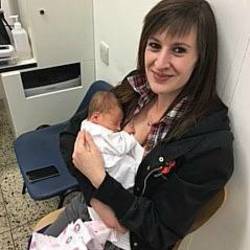 Congratulations to Rebecca, who stopped smoking during pregnancy with the support of her local stop smoking advisors in Barnsley. Here's Rebecca's story...
Rebecca made the decision to stop smoking during pregnancy after being referred via her midwife to the service.
She had previously smoked since she was 16 and had tried to quit by herself a few times but found it very difficult.
The pregnancy advisor in Barnsley, Laura, explained the benefits of quitting for both herself and her unborn baby and advised Rebecca to use NRT, which would make cravings manageable and increase the chances of quitting successfully.
With regular support from her advisor Rebecca was able to quit and stay smoke-free throughout her pregnancy despite her partner still smoking around her. She initially found this very difficult, but once she had made up her mind that she was not going to smoke any more she found it easier to be around other smokers.
To help her quit Rebecca found various ways to cope with stress by keeping busy and also focussing on her artwork - she is a keen portrait artist!
She told us:
Focusing on my baby girl made avoiding cigarettes easier and if I struggled with cravings I could always ring Laura and the support was always there either over the phone or face to face appointments.
We are delighted to say that Rebecca has recently given birth to a healthy baby girl and this inspired her partner to also quit smoking. Their home is now smokefree and is really proud that he is now quit. She is not planning to go back to smoking now her daughter is here and feels she has more money to spend on her baby and smoking is not ruling her life anymore.
On behlaf of your quit advisor Laura and the whole Yorkshire smoke free team we would like to say a huge congratulations to Rebecca. We wish you and your family a world of health and happiness.