Paul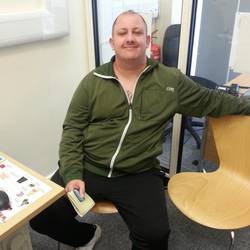 The experience made him want to reduce the risk of further family health issues. Having seen our Quit Shop in Doncaster town centre, he decided to call in to gain some extra support and increase his chances of stopping for good.

He told us that he found the service 'very supportive and understanding'. Our Doncaster team gave him the willpower to get over the obstacles that came up during his quit as he always had someone to report back to. He found that the ease of being able to drop in to book appointments helped him get through some tough days as he knew he had somewhere to go if he needed to talk.

In the beginning of his quit, cravings were the trickiest times for Paul to get through. He experienced some particularly painful headaches but knew that this was just a part of his body healing.
Paul kept himself occupied when he felt the need to light up and over time was happy to report that the cravings became much easier to handle.
Financially, quitting smoking has changed Paul's life. The quitter is amazed at how much he has saved since stopping. And the benefits don't stop there…
Paul has told us his sleeping habits, fitness and general health has greatly improved. He no longer finds himself short of breath, and is now most likely found taking his dog for an extra walk each day!
Congratulations on becoming smoke-free Paul, we're really happy to hear about the difference quitting has made to your life.