Patrick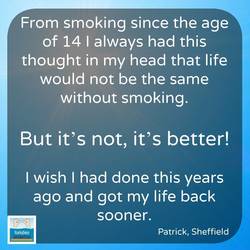 After being a smoker since the age of 14, 56-year-old Patrick has finally been able to kick the habit with the support of the Yorkshire Smokefree team in Sheffield. Here is his story...
What made you decide to join Yorkshire Smokefree?
I recently had a health scare and was taken to the NHS Walk-In Centre with breathing difficulties, where the doctors said it was caused by smoking and recommended I get in contact with Yorkshire Smokefree.
Tell us about your experience of the health issue(s) that meant you needed our services
Over the years my breathlessness became much worse and it got to a point where I could not walk without gasping for air. This was all caused by smoking!
How has this affected your life?
I have been unable to do the normal things in life such as a simple walk with my family, because of breathlessness and a lack of energy.
What has the reaction of the Yorkshire Smokefree team been to your situation?
The Yorkshire Smokefree team have been brilliant and have supported me 100%. I know that without their help I would have never been able to stop smoking.
What have the Yorkshire Smokefree team done for you? How have they helped?
They have constantly given me advice and support to help me stop smoking. They have provided me with products and advised which were the best for me.
What were the most positive changes you made to your lifestyle?
Being able to live life to the best of my ability and the improvements to my fitness, no longer being a person who preferred his fags to his fitness.
What did you find most difficult? And how did you overcome it?
I suppose for me the most difficult aspect was finally finding the guts to say that's it and to not buy any more cigarettes.
What health benefits/improvements in your life have you had since stopping smoking?
I already have more energy and my breathing has improved so much, I feel 20 years younger! I can taste food now and enjoy it, even my sense of smell is better.
How has stopping smoking changed your life?
If I had not stopped smoking, the doctors said I would probably die within 10 years' time so it's changed a lot.
Is there anything trust services could have done differently or better for you?
No the help and support you have given is brilliant. Thank you, I could not have done it without you.
Has anything in particular helped you through your problems? (e.g. attending a support group, exercise, volunteering, art, gardening etc.) Can you tell us more about this?
I have had the support of my family and good friends and seeing how proud they were of me, has helped me a lot.
Is there anything that you feel particularly proud of, that you may not have been able to do before you received support from Yorkshire Smokefree?
I am just so proud to be able to say 'I don't smoke', something I never thought I would be able to say.
From smoking since the age of 14 and smoking very heavy, I always had this thought in my head that life would not be the same without smoking. But it's not, it's better! I wish I had done this years ago and got my life back sooner.