Pat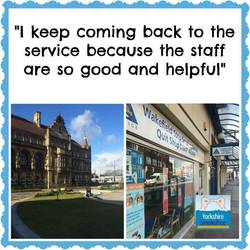 In April 2014, Pat overcame a serious health scare.
Pat suffers from COPD and last year ended up being admitted to intensive care. At that time Pat thought she wouldn't make it; even having to say her last goodbyes to her family.
Thankfully, over time she managed to recover and was eventually sent home.
The experience was a huge wake-up call for the smoker, and she decided the best step for her overall health would be to cut the habit out of her life.

"When I came home I had to stop smoking."

Like with most quitters, it took Pat a few attempts to break the habit. She told us "the process was hard and it took me a long time."

But that hard work paid off in the end! Pat is now proud to say she hasn't touched a cigarette for the past 4 months.

Pat used the support of Yorkshire Smokefree by visiting our city centre Wakefield clinic. The team have been supporting Pat through any obstacles she came across in her quit, and were always on hand to listen. The team told us Pat was such a joy to help that she is welcome to pop into the shop any time she wants a chat and a cup of tea!

We were really pleased to hear this fantastic feedback from the quitter - "I keep going back to the Stop Smoking Clinic for support as he staff are so good and helpful. I couldn't have done it without their help and I thank them all."
Thank you Pat and well done on being 4 months smoke-free. You've done an amazing job of quitting!