Mohammad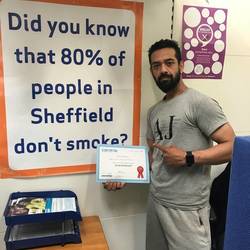 Why did I want to stop? I could tell my health was deteriorating. I wanted to be well for my family, for my children and my friends. I was also concerned by the amount of money it was costing me to smoke.
I got in touch with Yorkshire Smokefree in Sheffield and the team talked me though the different options available to me. I opted to use Champix to help me stop gradually and I feel this, combined with the weekly support meetings and carbon monoxide readings has really helped me. I am proud to say I am now a NON SMOKER and I encourage everyone to stop smoking with the help of the NHS.
Well done Mohammad! Your Yorkshire Smokefree advisors in Sheffield are all thrilled that you are now an ex-smoker. Keep up the good work!