Margaret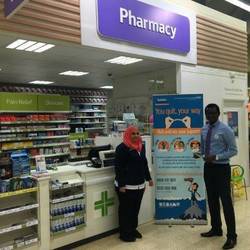 70-year-old Margaret from Halifax was able to stop smoking with the support from Yorkshire Smokefree Calderdale. She shares her story below:
What made you decide to join Yorkshire Smokefree Calderdale?
The thought of stopping smoking has been something I've been thinking about for some time. On visiting Rastrick Health Centre I was informed that there was a service that can help, "Yorkshire Smokefree Calderdale". After contacting YSFC I was informed that there was a new clinic operating in the Brighouse area Tesco pharmacy. This was ideal as I don't live that far away and it was very convenient to attend my appointment.
Tell us about your experience of the health issue(s) that meant you needed our services
I was feeling very chesty and my chest felt a bit heavy - this made me cough quite a bit.
How have these affected your life?
Prior to quitting smoking my chest was getting worse. But since quitting my breathing is much bette. I was seeing some improvement as little as one month from my quit date. I have noticed that my breathing and recovery rate have massively improved especially during my day to day walking. As prior to quitting I would get out of breath very quickly.
What has the reaction of the Yorkshire Smokefree team been to your situation?
They have been very supportive and given me the courage to get this far and If I find I am struggling the team are only a phone call away.
What have the Yorkshire Smokefree team done for you? How have they helped?
They have helped me turn my life around, I feel more confident when out with friends and I don't need to go and find somewhere to have a quick fix of a cigarette.
What did you find most difficult? And how did you overcome it?
Deciding on the final quitting day and sticking to the "Not even a puff" rule for that whole day.
What health benefits / improvements in your life have you had since stopping smoking.
My appetite has improved and I find I am enjoying the taste of my food so much more than when I was smoking.
Is there anything trust services could have done differently or better for you?
NO, they were 100% supportive in every way.
Has anything in particular helped you through your problems? (e.g. attending a support group, exercise, volunteering, art, gardening etc.) Can you tell us more about this?
I had a weekly meeting and talked about my feelings and how it was changing my outlook on life.
Is there any other information that you think is important to your story?
Yes, they helped me to be more positive about everything. This gave me the strength to do this even when I felt I may not make it.