Lewis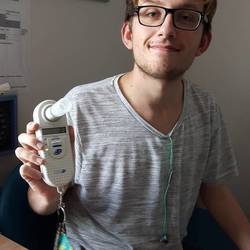 Knowing exactly why you smoke is extremely beneficial to be able to tackle any triggers, which is what 20-year-old Lewis found when he came to Yorkshire Smokefree.
Lewis had been coping with Asperges which made him feel overwhelmed and smoking cigarettes would help to distract himself. This affected his life greatly as he felt like he was leading a self-destructive lifestyle and made the decision to quit for his son and partner.
For Lewis, the Yorkshire Smokefree
team couldn't have done anything else better; they were great from start to finish and gave me the right medication to suit my needs. I stopped using a spray and it really worked for my lifestyle and preference. They definitely listened to me which really made a difference.
"I feel a whole lot healthier and by quitting, it has given me the confidence to address my other mental health conditions in order to lead the best life I can for myself and my family."
After a great amount of dedication, Lewis is now smoke-free and can lead a healthier lifestyle for himself, his partner and his son, which was his key motivation to quitting for good.
"The Yorkshire Smokefree team have been brilliant and so understanding of my situation. I felt comfortable and happy with the amount of support I have received."