Lee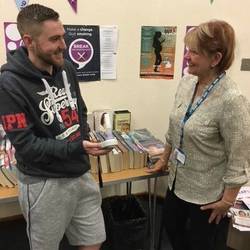 Lee has successfully stopped smoking with the help of his local Yorkshire Smokefree advisor in Wakefield.
He's 34 years old with a young family - Ollie, age 2, Emilia age 5 months and step-son James, age 5 and he is soon to marry his fiance Emma.
Lee actually works within the NHS, in the trauma theatres within Leeds General Infirmary, so is familiar with the dangers of smoking but with a busy family life, demanding job and a wedding to plan Lee hadn't considered stopping smoking until he looked at his finances and paid attention to a few new health niggles.
He worked with our Wakefield stop smoking team and is now recorded as a successful quitter. Since ditching the cigs Lee tells us he "feels great" and has found that his sense of taste and smell have improved massively.
Lee attended group clinics and found them to be incredibly beneficial and motivational and he managed to quit using prescribed nicotine patches. His willpower, combined with the love and support of his family are what really spurred him on. He even has a game that he enjoys playing with his little boy... called "Find Daddy's Dirty Ciggy Patch" and little Ollie makes daily checks to ensure he isn't giving in to temptation.
Lee was worried that when he quit he would struggle to resist a cigarette when out with friends (he's a keen golfer and enjoys beer and snooker nights with his friends) but so far he hasn't struggled at all.
Congratulations Lee! Your hard work has really paid off and you and your family will be reaping the rewards for years to come. We wish you all the best for your upcoming wedding. Pop in to see us with the photos!