Kyle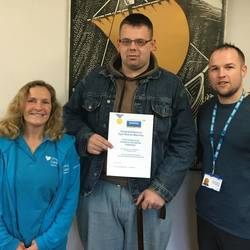 Congratulations to Kyle who sought the help of our Calderdale team and is now happy to say he is a non smoker. He shares his story with us below.
What made you decide to join Yorkshire Smokefree Calderdale?
The initial decision wasn't entirely mine I was caught in the act of inappropriately disposing of my used cigarette butt by a member of the Calderdale Environmental Team. I was then given the choice of either an £80 littering fine or take advantage of the Fixed Penalty Notice scheme that runs in Calderdale. This allowed me the opportunity to stop smoking with the support of the Yorkshire Smokefree team. I was informed if I managed to quit smoking I would be exempted from the littering fine which was something I wasn't happy paying.
After some thought I had decided to take advantage of the situation and start a new chapter in my life that doesn't involve me smoking and in the process save a considerable amount of money.
Tell us about your experience of the health issue(s) that meant you needed our services
I have noticed in recent months my breathing was an issue and was made considerably worse when my smoking was at its highest.
I frequently make a considerable effort to keep active as best as I can and this meant I would have to stop every 5 minutes to catch my breath which meant relatively short journeys took longer than needed.
How have these affected your life?
I have noticed when visiting my godson or niece I have difficulties keeping up and playing games, I soon find myself short of breath and ready for a breather. This is something I would like to change for the future.
What has the reaction of the Yorkshire Smokefree team been to your situation?
After contacting the Yorkshire Smokefree team I have managed to attend a clinic local to where I live. Weekly support sessions have been offered in the form of a group. I have also found very useful the motivational text messages that I received once I achieved my quit date.
During the first session I was given the choice of various Nicotine replacement therapies that would support me during the coming weeks. I chose one product in the form of a patch and explained to the advisor I would also use in conjunction with the patch my own e-cigarette.
What did you find most difficult? And how did you overcome it?
Using my e-cigarette in the early stages of my quit was very important for me but I found I was using it more and more and to some extent it became my crutch. Recognising this new behaviour I started to make an effort to only use when necessary and after each use I then made an effort to put it away in a drawer. This soon became more manageable until I realised I had not charged it up and I was unable to use due to battery life. I have left the devise in the drawer and now only work with self-motivation and my 16hr patch.
What health benefits / improvements in your life have you had since stopping smoking?
Various benefits have happened since stopping smoking for example:
Saving myself the £80 fine
I have not bought cigarettes for the past 6 weeks
I have found that my breathing has improved and I now find breathing easier
My sense of smell has improved to the point where other people's cigarette smoke is no longer pleasurable
I have spare money for Christmas gifts for friends and family
I have noticed my food cupboards are more plentiful
I'm happy to relate my new status of a non smoker
Is there anything trust services could have done differently or better for you?
I have been happy with the support provided by both Chris and Linda whilst attending my sessions.
Well done Kyle!