Kathryn, Marie & Victoria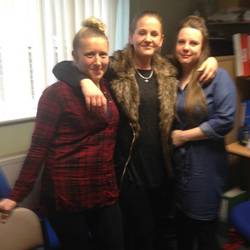 Three friends, Kathryn Baker, Marie Bowler and Victoria Kirby recently attended our Stop Smoking Service together. They've been friends for a long time and wanted to quit the cigarettes for good.
They told us that stopping smoking has changed their lives in lots of ways. After they attend our service, they all go from their appointment to breakfast in a local café and spend an hour to themselves. They've started considering what they eat and when - something they would never have done before. One of the ladies was a self-confessed tomboy but since stopping smoking she's found she has more money and time to spend on herself and has started wearing makeup and buying new clothes. The other two ladies are also buying a new wardrobe of clothes and now have more time in their day, instead of spending it smoking, and they feel healthier.
The girls have also started exercising. One of the girls has started running, she gets her earphones in and sets off. She really enjoys it and told us it clears her head and is a nice distraction! They all have children ranging from 10 months to 12 years and have all the trials and tribulations that come with being a parent, but still have managed to stay quit by encouraging and helping each other.
They said stopping smoking has definitely been life changing and are reaping in the rewards in health, fun and finance.
Congratulations girls!