Julie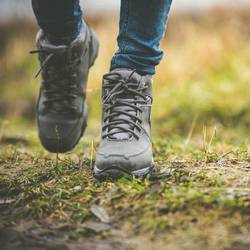 After being a smoker for over 30 years, 51 year old Julie has finally packed in the cigarettes with support from Yorkshire Smokefree Calderdale. Take a look at her story below:
What made you decide to join Yorkshire Smokefree?
I was initially recommended by my CPN Nurse but I have always wanted to stop but didn't know how.
Recently I have wanted to start walking again which normally would include climbing hills and smoking was affecting my ability. I have always been a keen on walking but my normal behaviour would mean I would have to keep stopping and the group I would like to join don't allow smokers smoking whilst on the walks due to the rural locations.
Tell us about your experience of the health issue(s) that meant you needed our services
I have a post-traumatic stress disorder, insomnia and psychosis, and have used cigarettes to alleviate stress. Though I now realise that I was wrong to use tobacco as a coping strategy as I feel I am now more in control.
How has this affected your life?
It has always controlled my life from first thing in the morning and throughout my day and evenings. The cost has impacted on my finances and most importantly my physical health.
What has the reaction of the Yorkshire Smokefree team been to your situation?
Wonderful, none judgemental and very supportive.
What have the Yorkshire Smokefree team done for you? How have they helped?
Initially they have supplied and advised on products available during my quit attempt. A weekly consultation has enabled me to stay focused and plan ahead. They have made sure I kept positive and helped me stay focused during the quit attempt.
What were the most positive changes you made to your lifestyle?
My physical health has improved which has encouraged me to become more active resulting in my breathing to somewhat improve.
What did you find most difficult? And how did you overcome it?
The cravings were very strong at first. Made worse by my current health problems due to stressful situations and difficult mental health states during the programme. I have overcome these states by focusing on my walking and using the medication provided.
What health benefits / improvements in your life have you had since stopping smoking?
Lots I am now going to join the ramblers association as a non-smoker, and I have treated myself to new walking boots with all the money I have saved from not smoking.
How has stopping smoking changed your life?
I have gone through the worst and now know there is no going back to my addictive lifestyle of cigarettes.
Is there anything trust services could have done differently or better for you?
No, all good.
Has anything in particular helped you through your problems? (eg attending a support group, exercise, volunteering, art, gardening etc) Can you tell us more about this?
Walking and planning on doing yoga in the future where they teach you alternative ways to de stress using breathing techniques.
Is there anything that you feel particularly proud of, that you may not have been able to do before you received support from Trust services?
I have climbed a mountain/very steep hill with little problems both literally and mentally!
Is there any other information that you think is important to your story?
I never imagined that after 30 years of smoking I would ever give up and neither did my family and friends. They are more amazed than me!