Jim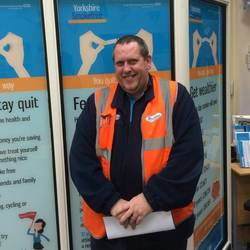 A huge well done to Jim from Doncaster who has stopped smoking with the help of Yorkshire Smokefree!
Jim came to us for support after he realised smoking was not something he enjoyed and over the years had become a habit. He found himself feeling regularly out of breath, tired all of the time and short tempered (due to the tiredness). After approaching his doctor, he was referred to our Doncaster team for all the advice and support he needed to finally put a stop to the habit.
Since his quit, Jim has found he is able to exercise more and feels much better in himself. However, it wasn't all plain sailing. Being a very sociable person who enjoys a drink, Jim said he found going out with friends hard as this is when his cravings hit the most. However, he persevered and is now proud to be able to say, "I'm smokefree!"
Jim said:
It's been in my mind to quit smoking. When you go to stop you need to plan for it and you've got to want to do it.
He added, "I found the Yorkshire Smokefree team very supportive. The advisors have been absolutely brilliant - just being there to listen was a huge help."
Congratulations Jim!