Jean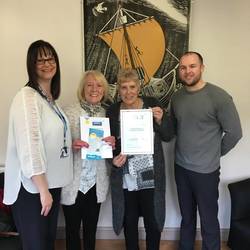 Congratulations to Jean, who is now smoke-free after quitting with the support of our Calderdale stop smoking team.
Jean was facing surgery and felt that quitting smoking before her operation would give her a better chance of a healthy, speedy recovery. Our "Stop Before Your Op" quit programme was therefore perfect for her.
Jean is now 12 weeks smoke-free and we're delighted to report that her surgery was a complete success and her recovery was swift.
The photo left to right is Lindsey Noel (YSF Calderdale stop smoking advisor), Jean, Kathleen (fellow group member) and Chris Keoghan (YSF Calderdale stop smoking adviser).
Jean is holding a "Stop before your Op" leaflet in addition to her "Congratulations on Quitting" Certificate. Chris and Lindsey run the group at Noah's Ark, it is a thriving group in Ovenden, North Halifax with an excellent success rate.