Jane and Lisa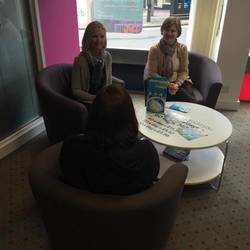 Jane and Lisa* are a mother-daughter combo that are now proud to say they have quit smoking for good - well done!

Lisa has been trying to quit for years on her own. She hated having the infamous smoker's cough and started to experience some difficulty breathing. When she first joined Yorkshire Smokefree she told us that she always felt drained after smoking.

Her mother Jane also smoked, so when Lisa decided to quit her mum did too. Jane was fed up of having an addiction and wanted to avoid a future that included any extra wrinkles!

The two joined one of our weekly group sessions run by our Calderdale team.

Both women found it very difficult to change their habits but overcame this with different techniques. Jane relied on NRT products to quench her cravings at the times when she would normally smoke. Lisa's strategy was to set herself a task to complete and she would often become too distracted to even think about lighting up. Not only did this help with her quit but she also got a lot more housework done!

The support they received at the group sessions was invaluable to them. Lisa tells us "Coming to the group every week gives you something to look forward to." They both felt the group was a very positive environment which is a great place to be listened to and learn from other people's experiences.

Jane and Lisa felt that Yorkshire Smokefree encouraged the two to quit as a team. We believe that an extra bit of support can really help and the two women have proven that for us!

Their adviser Susan is pleased to see that since they have become more confident with their own quits they are really opening up in the group sessions. Another quitter in the group recently had a relapse which Jane and Lisa responded to fantastically; helping them get back on track and in the right mind-set.

Since they have successfully quit they are both much happier. Jane says that she no longer gets regular headaches like she did before and is now not as moody! Both of them feel they have clearer skin, more energy, and are looking forward to saving the money they would have spent on cigarettes beforehand.

We're really proud to see that they both have such a positive attitude for the future. Jane believes she can now make better health choices and Lisa has a lot more self-belief. They both told us that they found stopping with a family member made the process much easier as well as coming to the stop smoking sessions together. It's always great to hear such positive feedback and we have every belief that these two will continue to be smoke-free for good!

Well done you two!

If you want to quit smoking with the support of the Calderdale Smokefree team and would like to find a clinic near you then visit http://calderdale.yorkshiresmokefree.nhs.uk/clinics or contact us on 0800 612 0011 (free from landlines).

*Please note that the names of these quitters have been changed.