Hazel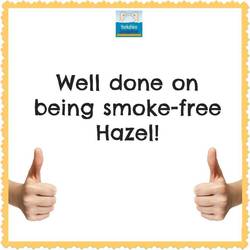 "I felt I had no energy or motivation to do anything."
Since then, she's come a long way.

On April 9th Hazel officially quit the cigarettes for good. The most difficult part of the process for her was not giving in to the urge to smoke. She was so used to the habit, it was hard to let go of.

However, she never gave in to these feelings as she always kept herself distracted.
As soon as she thought about smoking, she decided it was time to wash the pots or do some dusting!
Now that her quit date is over 2 months ago, Hazel feels fantastic. Instead of smoking she has taken up a healthier habit of swimming twice a week. She's also happy to report that breathing has become much easier, and her teeth and skin are in better condition.

Congratulations on becoming smoke-free, Hazel!

We're always really pleased to share our quitters' stories and would like to give a big thank you to Hazel for her wonderful feedback below, as well as a 'well done' to our Wakefield team!

"Yorkshire Smokefree Wakefield has been fantastic! The team are friendly, helpful and very supportive I couldn't have quit without their help. Thank you again."