Graham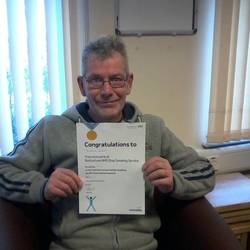 Graham was a heavy smoker for a big part of his life. For over a decade his GP has been advising him to cut the habit due to the health problems he has been living with. He's now incredibly pleased to say that he is smoke-free for good!

Graham's health hasn't been in the best shape for quite a while. For years he has been taking antibiotics due to the impact smoking was having on his breathing.

He had been thinking about quitting for a while for the sake of his health, but what really gave him the motivation to stop was one comment from his wife. She told him he sounded like "an old car in the morning" when he had his first of many cigarettes in the morning; a sound which made him recognise the damage he was doing to his body.

Throughout 2015, Graham has been visiting our Doncaster Smokefree quit shop for extra support and advice on what step to take next.

He told us he felt adviser Lorraine gave him a lot of moral support and the tools he needed to quit. Lorraine herself is extremely pleased with the progress Graham has made over the past few months and is glad he has taken on board such a positive change to his lifestyle!

His secret to quitting?

…Going in with the right mind set. Graham confessed to us he is very stubborn and was determined that he wouldn't be defeated in his aim to stop!

The most challenging part of quitting for Graham was finding something to occupy his hands during cravings. The habit had become such an ingrained part of his routine and Graham found it difficult at first to distract himself. However, he managed to overcome this by doing jigsaw puzzles and through the support of his wife.

As Graham learnt to concentrate on these puzzles, he has received an unexpected benefit from quitting. He is now a lot more focused on any projects he undertakes. This recently became evident to him when he starting decorating his house. The Doncaster quitter is now looking forward to seeing the project through - with a thorough eye for detail!

Alongside this, Graham's health has radically improved. He feels he has more energy and loves the fact he now has more money to spend on his family!

We're pleased to hear that Graham is proud of his efforts, but more importantly to him he is happy that his family is proud of him. Congratulations!

If you want to quit smoking with the support of the Doncaster Smokefree team and would like to find a clinic near you then visit http://doncaster.yorkshiresmokefree.nhs.uk or contact us on 0800 612 0011 (free from landlines).