Glynn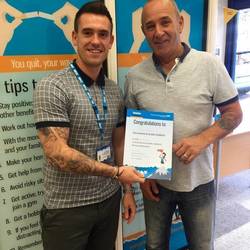 Huge congratulations to 61-year-old, Glynn Lee who is now smokefree with the help from Yorkshire Smokefree Doncaster and his advisor Liam Nelthorpe. Take a look at his story below...
What made you decide to join Yorkshire Smokefree?

After retiring in April, I felt I needed to think about my family and my health.

What has the reaction of the Yorkshire Smokefree team been to your situation?

They have been amazing, very supportive and have given me encouragement and praise throughout my journey.

What have the Yorkshire Smokefree team done for you? How have they helped?
They have made it easier for me to stop smoking through their encouragement and by listening to how hard it is at the beginning.

What did you find most difficult and how did you overcome it?

Not smoking after meals was very difficult but I overcame this by eating more fruit and going out for a walk.
Being a miner for many years, smoking was the 'in' thing. It has taken me many years to decide to stop smoking but having retired and my wife saying to me she wants to enjoy retirement with me and the need to take care of my health, I knew it was time to stop. I have also learnt that it is never too late to stop.

What health benefits/ improvements in your life have you had since stopping smoking?
My breathing is better and I can also taste my food much better!

How has stopping smoking changed your life?
I feel much better in myself than I have in a long time.

Is there anything trust services could have done differently or better for you?
No, in my opinion they have gone above and beyond.

Has anything in particular helped you through your problems? (e.g. attending a support group, exercise, volunteering, art, gardening etc.) Can you tell us more about this?
The one-to-one support with my advisor Liam Nelthorpe has been very helpful and he has given me confidence throughout my journey.

Is there anything you feel particularly proud of, that you may not have been able to do before you received support from trust services?

Yes, that I have actually stopped smoking!