David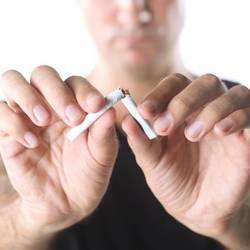 What made you decide to stop smoking?
Health reasons and potential for surgery.
What was the most challenging thing about smoking that made you look for a solution?
Health.
Had you tried to stop smoking before?
Yes, I quit in 2006 using the service. I used Champix and quit for 4 months.
Why was it not possible to stay quit on that occasion? Tell me what was different this time?
I did but relapsed due to stress.
What did you find most difficult when stopping smoking? How did you overcome it?
The continuing desire to smoke. I overcame this by reminding myself that I am determined to stay quit for health reasons.
Has anything in particular helped through your problems?
Attending the sessions and motivational texts.
What health benefits/improvements in your life have you had since stopping smoking?
I use my inhalers less and my chest is much better.
What other benefits have you noticed? How has stopping smoking changed your life?
My sense of smell and taste has improved.
What did you like best about our service? How did this help you?
Face to face support whilst visiting the Barnsley Smokefree service. The convenience of the clinic being in Darfield, I would not have gone into Barnsley.
Is there anything our service could have differently or better for you?
No.
Is there anything that you feel particularly proud of, that you may not have been able to do before you received support from our service?
I am pleased I have stopped smoking.
Is there any other information that you think is important to your story?
I think the support has been very important.