David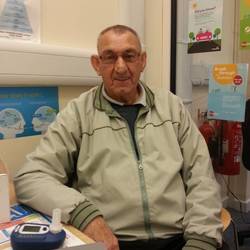 Well done David on reaching your 1 year smoke-free anniversary!

Since quitting, David told us he now realises the ways smoking was severely affecting his life. He couldn't walk far without losing his breath and because of this was unable to play with his grandchildren. It was this reason that prompted him to cut his 55 year old smoking habit out of his life.

David took action and came into our Doncaster quit shop where adviser Mark guided him through his quit journey. He felt that the service was approachable and supportive, which motivated him to never quit quitting.

"[Yorkshire Smokefree] could not have done anymore - they were excellent!"

The encouragement from us was especially welcomed by David during the first 2 weeks of his quit, which he found extremely difficult. However through the combination of his own willpower and a little help from some NRT products David managed to overcome this challenge.

His secret? Whenever a craving tempted him David reminded himself of NOPE - not one puff even.

David feels that his life has drastically changed since quitting. His health has improved, he is more sociable, active, and is pleased to say that his flat no longer smells like cigarettes!

Most importantly to him, David is over the moon he can now easily play football with his grandkids.

We asked him for final thoughts on his quit, and we were happy to see him encourage others they can do it too:

"Using Yorkshire Smokefree made the quit easier than I thought. If I can do it anyone can."

Congratulations on becoming smoke-free, David! It's been very inspiring to see your enormous dedication to your quit.