Daniel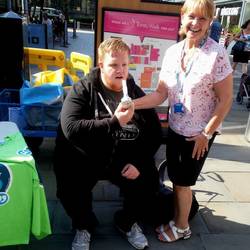 Meet Daniel, shown in the photo with stop smoking specialist Gillian Bibb at the Health pod promotion in Trinity Walk. He was well known to the Health Team as he has now lost 12 stones in weight and had been doing gym training for 2 years too.
He used to smoke but is now smoke free. He is a highly motivated young man and says he would like to take up training to become a Gym instructor as he can empathise with his clients should he succeed. He has a photographic and pen record of his journey so far.
His mum used to smoke 200 cigs a week then reduced down to 100 and now hardly any and aims to quit totally. She was in a wheelchair and hardly got out of the house. She has lost lots of weight too and is interested in joining a gym with her son.
Daniel is a very articulate and enthusiastic person our service wishes him good luck with his future and offered help for his mum quitting smoking should there be a need.