Client B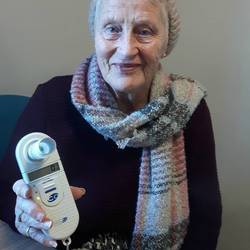 B recently sought the help of our Wakefield Stop Smoking Team following a hospital visit. The doctor at the hospital was concerned about her levels of breathlessness and suggested that smoking was damaging her health.
Working with our advisor, Claire, B has now stopped smoking completely and in her own words is feeling much better. The journey has not been an easy one, with B struggling with cravings and that all too familiar urge to smoke, but she told herself that she had to stick with it, and carry it through until the cravings passed.
Advisor Claire is delighted with B's achievements and has enjoyed working with her throughout her quit journey. We asked B what she thought about the Yorkshire Smokefree Service and she told us that it was "marvellous, with considerate and understanding staff".
Has this been a life changing process for B? It certainly has!
She is now breathing better and feels her levels of fitness have improved. She is grateful for the support we offered and feels huge pride in herself!
You should feel proud, B! Your hard work has really paid off! Congratulations!