Christine, Shirley and Florence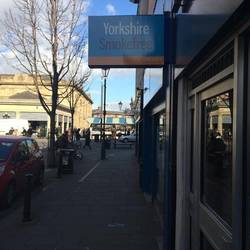 Three sisters have made the decision to quit together after contracting a smoking related disease, which affects up to a quarter of all smokers.
Christine, Shirley and Florence decided enough was enough after chronic obstructive pulmonary disease (COPD) left them with breathing difficulties and frequent chest infections.
The sisters admitted that stopping was "very difficult", but each other's support and the advice from Yorkshire Smokefree made it possible.
Although it wasn't an easy journey, the sisters are now enjoying the benefits of smoke-free life.
"Not only has our health improved but we are saving money and enjoying the taste of food more now".
The sisters were determined to quit and found attending a Doncaster support group particularly helpful.
We're really happy to hear that they have decided to quit, and think it's fantastic how they've all supported each other.
COPD is one of the most common respiratory diseases in the UK, and although it is estimated that 3 million people are living with the disease, the majority go undiagnosed.
If you smoke, the best way to prevent COPD from getting quickly worse is to stop smoking like these sisters did and avoid further damage to your lungs.
Christine, Shirley and Florence found Yorkshire Smokefree "very helpful" and say that our services made giving up a lot easier.
Congratulations on becoming smoke-free!

If you want to quit smoking with the support of Yorkshire Smokefree on live chat then please visit http://yorkshiresmokefree.nhs.uk/pages/ways-we-can-help and click 'open live chat.'