Bill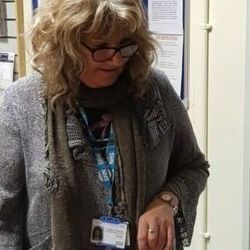 Bill stopped smoking with the support of his Doncaster stop smoking advisor. He, the advisor tells the story of Bill...
The Black Hole
Bill attended the Stop Smoking Service at Adwick Fire Station back in April this year.
Bill was in a terrible state and unable to climb out of the big, black hole that he was in. Together we chatted about why Bill wanted to quit smoking.
Bill had little money and he didn't know what to do, or where to turn. Everything was getting on top of him and he was smoking at least 40 cigarettes a day, sometimes this even rose to 50.
Smoking was costing Bill around £20 per day which left him with no money for food after he has paid his rent and bills. We chatted about health issues too and the possibility of getting support from a counsellor. Bill liked the idea of being able to go on holiday if he could save the money, so he decided to put £10 every day into a box at home. After 1 week he was so pleased with the money he had saved that it gave him the incentive to continue.
On various Occasions, Bill has thought 'Do I want Money or Cigarettes?' Though it has been difficult, it really helped attending the fire station stop smoking sessions to give a weekly CO reading.
Bill said:
Stopping smoking has helped me with my mental health and the cloud hanging above me started to lift.
As Bills earnings grew, the overall pressure on him was lifting by not spending money on cigarettes. He was then able to spend £10 a day on food out of the 'smoking money'.
Bill has now begun going out to the club once a week which he could never have done before. He has also met friends there that he used to work with and can sit and watch the bowling with them. This is such a big change from the 4 walls that he was stuck at home watching before.
Bill has had a very tough few years and this has now given him a new outlook on life. He lost his daughter in 2012 and 11 weeks later his mum then passed away. In 2014 he lost his wife, 2015 his father and 9 days after his niece. Bills other daughter was diagnosed with breast cancer in 2016 and as you can imagine this was all devastating for him and understandably increased his smoking habit to triple what he did smoke.
bills words on the Yorkshire Smokefree service...
I couldn't have done this without the support of the stop smoking service
Bill, the entire Yorkshire Smokefree team is incredibly proud of you. Your journey has not been easy but once your mind was made up you set about your quit with grit and determination. We hope you enjoy your new found freedom and financial gains made from quitting. Keep up the good work and keep in touch!
Visit the South Yorkshire Fire and Rescue website to find more about the service we provide at their Adwick Station.
Story given with consent to publish this story under a pseudonym.