Barry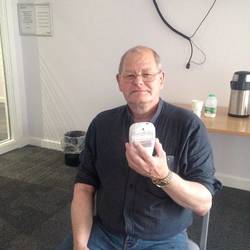 For 46 years, Barry smoked between 21 and 25 cigarettes a day after starting properly when he was 15.
In 2006, Barry's eldest sister died of cancer and in 2014, he was diagnosed with Chronic Obstructive Pulmonary Disease (COPD). These two life-changing events gave Barry the motivation he needed to quit smoking.
Barry made it to all the group sessions where he rated the support he received highly.
"I used Champix on the first three occasions that I stopped but this time I went on to an e-cigarette (quit 26th February) and haven't smoked any tobacco since. I have gradually cut down the strength of my e-cigarette and I'm now using 0% nicotine. This service has been very helpful."
Barry is enjoying the positive effects of quitting smoking with his health improving every day. He's able to walk for longer without getting out of breath, is using his Ventolin inhaler less and has even returned to work which is a fantastic achievement.
As well as the health benefits, Barry is feeling the financial benefits too and is saving towards a well deserved holiday.
Congratulations Barry, the Calderdale team are very proud of what you have achieved!